Callisto

We are using a modified version of this map of Callisto created by Bjorn Jonsson.
Saturn
We are using a map of Saturn from Bjorn Jonsson's web site.
Following is a series of satellite maps representing a combination of Voyager and Cassini spacecraft imagery. Navigation information used in reprojecting Cassini images was obtained in part from Mark Showalter's Cassini Satellite ephemeris website. A helpful image summary is being used courtesy of The Planetary Society. Matching of topographic features was also done to help in registering the images. It is anticipated that the typical accuracy of the navigation of the images is roughly within the 1-2 degree range. Please note that some of the Cassini images used are "raw" images that are uncalibrated and unprocessed.
Mimas

Below is a map of Mimas I constructed by reprojecting and overlaying about 15 Cassini images representing ~90% coverage on top of the official mosaic found on the Cassini web site (used for ~10% coverage). The Cassini images and mosaics are from NASA/JPL/Space Science Institute.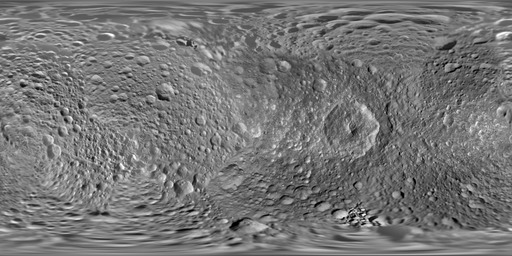 JPEG, PNG, PNG (with feature labels)- (image updated 12/20/2012)
Enceladus

Below is an 8K map of Enceladus I constructed by reprojecting and overlaying about 50 Cassini images on top of a previous map using Voyager images from Philip J. Stooke and Jens Meyer. Two Cassini raw images from a mid-January 2005 flyby were used along with eight "raw preview" images, three "raw" images, one raw wide-angle image and one mosaic from a mid-February 2005 flyby. Nine PDS images, three raw preview images, two false color images, a high-res mosaic, and one raw image were used from the March 2005 flyby. An untargeted flyby in May 2005 provided a look at the south polar region. About a dozen images (a combination of PDS, raw, and processed) from the July 2005 flyby dramatically improved the south polar coverage. Images from November 2006 and September 2007 are included. A few images from the March, August, and October 2008 flybys are also being utilized as well as from November 2009. Color information from a regional mosaic is being added. The Cassini images are from NASA / JPL / Space Science Institute. Navigation information from the PDS along with an Enceladus map from the JPL Photojournal (PIA08417) was used to help position many of the images. Thanks to Jason Perry of the University of Arizona and Emily Lakdawalla of the Planetary Society for help with the PDS data/images.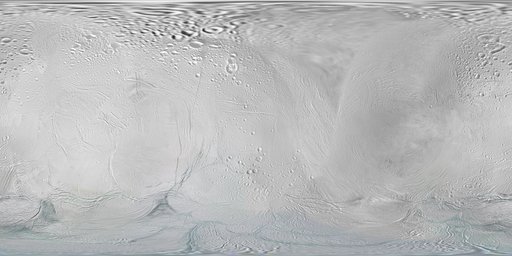 JPEG, PNG- (image updated 12/18/2009)
Enceladus Map Sheet

Here is an earlier version (from 2/23/2006) of the Enceladus image shown above presented as a map sheet. This includes polar and cylindrical projections along with feature labels. The map sheet processing was done by Jason Perry from the University of Arizona.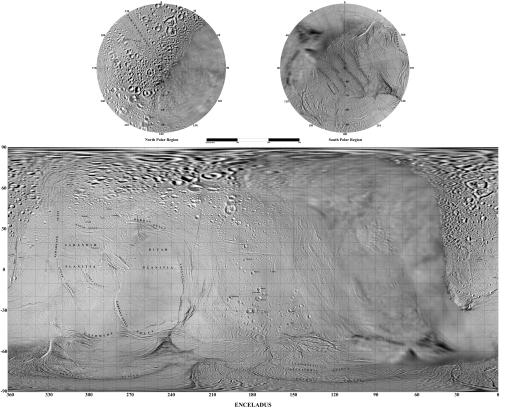 Full Size, Half Size - (image updated 11/22/2006)
I'm currently working on a feature overlay. This is a 4K image with the feature names on top where the fonts are "pre-distorted" to display well on SOS, Celestia, etc. (updated 2/25/2012).
Tethys

Below is a 4k map of Tethys I constructed by reprojecting and overlaying a high-resolution Cassini mosaic from a recent flyby on top of a previous map using Voyager images from Jens Meyer . At high sun angles, the color from the Cassini image was merged with the intensity from the Voyager map. In addition two raw B&W images are included from March 9, 2005, one raw image from June 27, 2005 as well as processed images from Dec 15, 2004 and May 20, 2005. A mosaic was added from the September 24, 2005 flyby. Raw images are included from the December 2005 and February 2006 flybys, including an improved view of Odysseus. Data from July 23, 2006, September 25, 2006, June 2007, July 2007, August 2007, September 2007, and September 2008 have been added. A processed color image (from Gordan Ugarkovic) plus some raw images are included from May 2008. A Dec 2008 processed image by "Exploit Corporations" of Unmannedspaceflight.com was utilized. A Cassini imaging team produced map was used as a positional reference. The Cassini images are from NASA / JPL / Space Science Institute.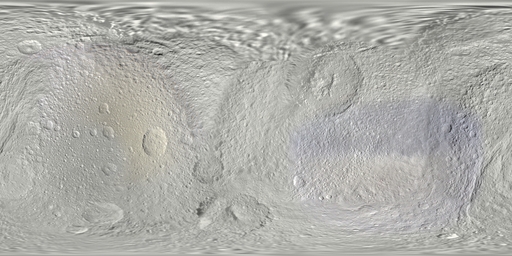 JPEG, TIFF- (image updated 12/19/2008)